The design process from start to finish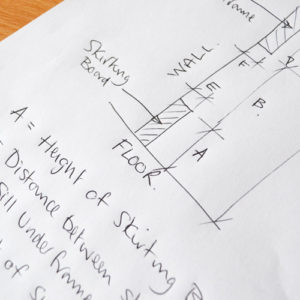 All projects start with a phone call.  On a regular day we receive many enquiries and messages relating to bespoke laser cut wall panel designs. We are often asked
if I send you a sketch can you make this design for us?
We simply and respectfully ask the customer to send us their ideas.
Customer A – just an idea and nothing else
Sometimes this can be quite entertaining as not everyone can draw or sketch their thoughts and ideas, but we find because ideas often come from something the customer has seen online, or seen on the high street, or products they are trying to visualise are similar to existing products, then we always find a way.  In the cases where they cant find any information online we ask questions such as what style? what colour? what features? location? what type of material?
We then quickly, often within an hour, source relevant information and provide a sketch with supporting images that we then send back to the customer. We never charge for this service, as we see this as a way to clarify everyones thoughts and expectations, and also very quickly state whether we can fabricate the design or not.
If it is a project we can help with we say there and then. If we cant help we always provide guidance on suitable suppliers and manufacturers who can, assuming it is possible in the first place.
Customer B – a full understanding of what you want having seen images on the web
This is a regular question we receive from bar and shop owners, landscape designers, shopfitters, diy enthusiasts, and customers wanting to achieve a certain look and finish.
First of all we ask the customer to send us the image and it all works backward from there. If they have found an image from one of our galleries it is easy to start to understand what is and is not possible. If it is an image from elsewhere, for example Pinterest or an image a customer has seen on TV or on the High Street, then a little bit of research is required. The importance of understanding what can and cant be achieved based on a simple image which may have no bearing on the customers project is the key.
Customer C – a full set of drawings with a materials and finish specification
This is a regular enquiry we receive from architects and interior designers, architectural technicians, interior stylists and stagers, design consultancies and design led companies.
Most of the time the enquiry is straight forward, the design is available, the drawings accurate, the outcomes achievable. Sometimes however designs have to change, although such practices are rare, the customers are always grateful of our advice often over the very first phone call. We simply provide guidance on what is possible, or highly recommended to achieve the highest quality results. Examples of such amendments include small changes to company logos to be laser cut – think what happens to the word 'BOO' when laser cut as the centres of the characters will simply fall out!
The next two questions are always the same…
How much will it cost?
How we cost all our bespoke laser cut screens and metal panels
There are lots of variables to consider when pricing to manufacture our custom made laser cut screens.
Complexity of laser cut
It seem obvious but the more complicated the design, the more expensive. Prices are based on the laser cutting time, and the longer the metal sheet is under the laser, the greater the price.
Complexity of fabrication and assembly
Another obvious answer. Good design means all folds and components are kept to a minimum. It is also very good practice to reduce the time a materials fabricator needs to work on the project. We help all the way to ensure parts, folds, inserts and fabricating time is kept as low as possible.
Materials
One way to reduce the laser cutting time is to choose a material, and material thickness, that allows the laser cut to flow faster. The thinner the material, the faster the laser. We work closely with every customer, on every single design, to ensure the optimum materials are selected for strength and rigidity purposes.
Size
We always try and optimise customer projects to reduce material waste, and where possible design laser cut profiles to minimise sheet metal waste. For bespoke designs,  sheet materials are typically 2.5m x 1.5m,
Timing
Can two  designs be made at the same time – it is a lot cheaper if we have to set up jigs and tools once, rather than twice.
Finish
This is where key savings can be achieved. Can all products be finished in the same colour? Can you use the same base material? Are the finishes all the same price? What are the environmental conditions for each panel – indoors or outdoors? Are they located in an area of high footfall? Will they be located where children might be around? Do you require hand finishing, for example on antique brass sheet? Can they be powder coated rather than anodised?
Costs depend entirely on a wide range range of factors, many of which are mentioned above. We cost all custom made laser cut screens and decorative architectural panels competitively and where necessary include installation and fixing.
When will they be made?
Timescales for completion depend on availability of materials and finishes, production slots and access to premises. We regularly fit in with customers' timescales where we can, when there are restaurant and bar launches, export slots and other customer events. We have appeared on national television 3 times with designs that were completed within 5 working days.
Copyright
We never copy designs owned by others so please do not ask. All of the designs we create are either exclusive to us or based on common free access designs ie repeat patterns in arabic or moroccan motifs. We create original designs and bespoke designs for all customers, and can create stylised designs with ease.
In summary
There is no standard price for any screen. We are able to provide guideline costs often within one hour, occasionally over the phone, but each project is different and needs to be priced accordingly. We do not charge for any advice, consultancy and support, as it is a feature of our business that our award winning design team provides the very best support and service for every customer.
Contact us with your ideas via the form below. Every project is confidential. No job is too small or too large. We never spam and never give information to third parties. We are happy to receive drawings and photographs at any time. Please contact us via the form below. If you wish to send images please email us.