COVID 19 Screens for home, office, restaurant and architectural interiors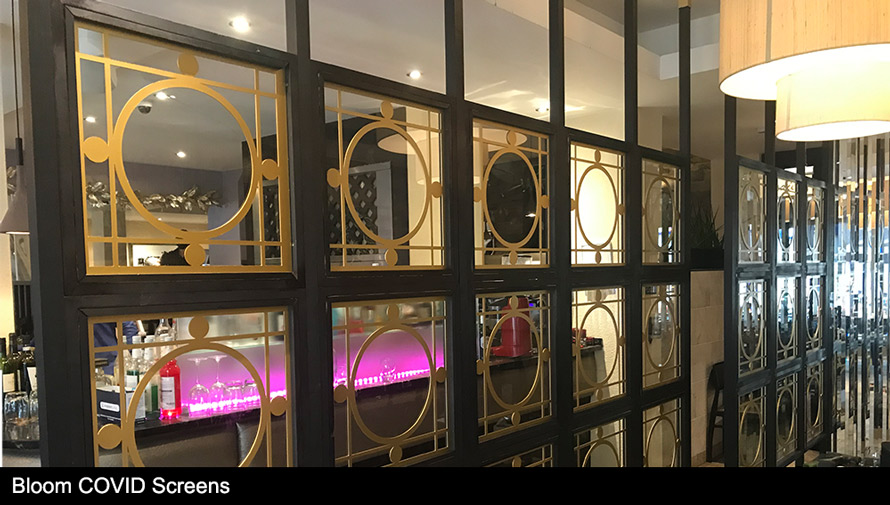 Lasercut screens have now launched a dedicated webpage for all COVID Screen enquiries to ensure all COVID requirements are handled quickly. Please check out our new COVID Screens website at
All CASAREVO Covid 19 screens as well as the beautiful fretwork inlays are available with toughened glass inlays, creating a huge range of COVID Screen options for any business or interior design project.
Select any fretwork pattern from our extensive pattern range, choose a colour such as gold, black, antique copper or many others, choose a frame configuration to suit your space (these screens can be as long as you require, and can also feature angles turns so no need to be a a straight line all of the time!). You can even combine different laser cut patterns, fretwork configurations, colours and finishes to match exactly your interior project needs.
Every CASAREVO Covid screen is made from hardwood, and can be left natural or stained or painted. Easily fixed in place, removable at any time, the CASAREVO Covid screen options are endless.
For hotels and restaurants why not place these COVID Screens to separate customer tables, or separate areas such as reception, lobby, kitchen, toilet areas, sanitising areas. We can also incorporate your own logo or image, juts contact the design team for more information.
For these options, and perhaps some we have yet thought of, please contact the design team at CASAREVO via the link above, or simply type CASAREVO Screens into GOOGLE.