Art Deco restaurant and hotel interior Hilton Paddington
Art deco makeover at Hilton Paddington Hotel in London
We were delighted to be asked to design and manufacture a wide range of Art Deco inspired freestanding screens, wall partitions and decorative fretwork column friezes for the Hilton Paddington Hotel in London. From order to installation in five weeks we worked closely with the Hotel Senior management team to quickly realise and confirm a broad range of Art Deco inspired designs in keeping with the listed interior of this beautiful London landmark Hotel.
Restaurant Screens in glass and metal
The design brief was very simple – to realise a range of screens that could successfully incorporate textured and coloured glass panels in an art deco style. Constructed in powder coated mild steel each art deco partition was custom made to an exact specification that allowed for successful and quick installation in a very busy restaurant area in one of Londons most popular hotels.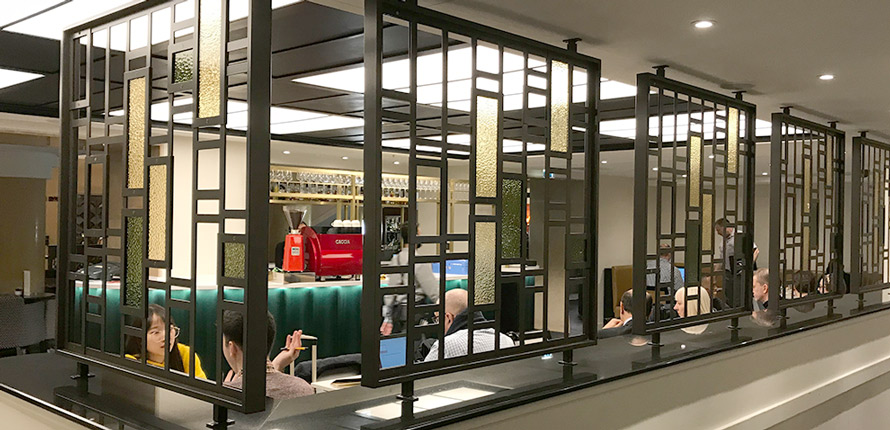 Curved art deco room dividers for Hilton Paddington Lounge area
A total of nine curved art deco partitions were manufactured in powder coated mild steel with stained hardwood handrails and bases. The aim was to create a beautiful art deco interior space that was functional, decorative, high quality and above all in keeping with the rest of the art deco fixtures and fittings in the busy lounge area.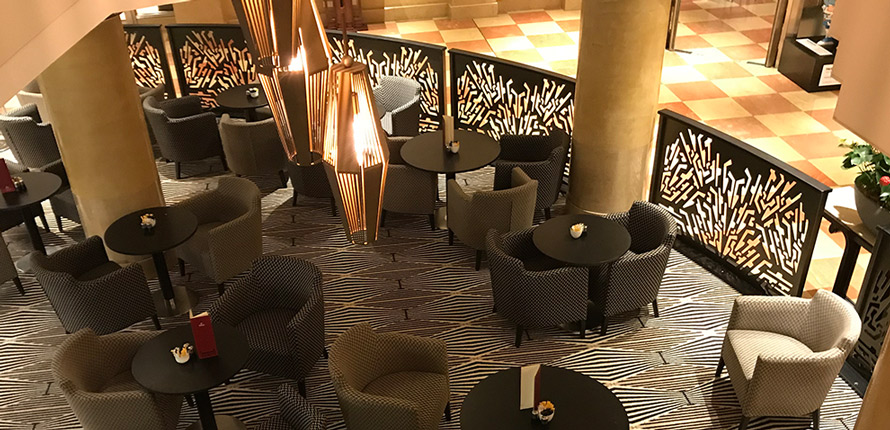 Decorative fretwork column friezes
A last minute request was to create decorative fretwork friezes around listed columns with the busy lounge area of this bustling seating area. Each art deco style frieze was custom made to the exact diameter of each individual column, and the fretwork pattern scaled to ensure all art deco patterns aligned to each other.